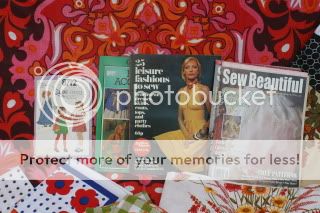 It started in my teens when a girlfriend and I were looking for a cheap way to entertain ourselves. We both loved to sew and play with old stuff, so we'd catch the old diesel train to the next town (and no, I ain't THAT old.....our train line was a bit antiquated, but so cool!) and pay a visit to St Vincent De Pauls. We had so much fun rummaging through the racks that now as an adult I can't give the habit up. And why would I when I find so many great treasures?
So on my last trip I found 2 NEW vintage tablecloths. The one in the background of this picture has the most vibrant colours and design. There was also a very cute old curtain which you can just see a bit of in the right hand corner, some new old napkins, a cute pattern and a couple of old books with some very funky bikini patterns that I'll try (after I get in shape!!).
Plus there were a couple of Sew Beautiful magazines. I'm rather embarrassed to admit this but I almost squealed when I saw these on the rack lol. You see, I'm a bit of a fan and a wannabe heirloom sewer. I can do a little heirloom sewing but I don't really have the time for it at this point, but later.........oh yes, one day I will MAKE the time and then I want to play and make heirloom stuff but with a bit of a twist. One day................